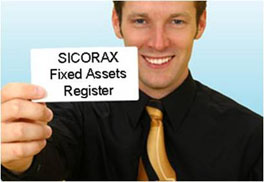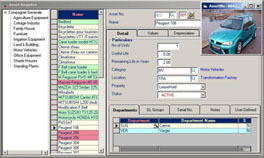 Used by small, medium and large enterprises, SICORAX®
Fixed Assets Register, easy to use, provides you with an
improved administrative and financial productivity.
The principal features of this multi-company,
multi-user and multi-lingual software, will allow you to:
Manage an unlimited number of assets and sub
assets.

Register easily your assets: capture the purchase
value, then the type and depreciation
duration, to instantly obtain the monthly and annual depreciation plan.

Choose the depreciation type (straight-line,
reducing…).

Group the assets by categories, departments and
locations.

Process asset related transactions such as, sales,
scraps, revaluation, devaluation, WIP…

Have a future outlook of the assets: easily visualize
the value of your assets as at date specified.

Generate depreciation reports by category,
department and location.

Print all assets, the 'leaseholds' or the 'freeholds'.

Keep a complete archive of the asset: purchase
(name of the supplier and supplier invoice number),
sales (name of the buyer, sales amount and profit or
loss incurred.)

Save and easily access historic data for endless
number of years.

Secure your asset management; once the data has
been updated, only reversal transactions can modify
these posted entries. Furthermore, all transactions
are registered in an audit log.